Wiesz, że napisanie ebooka może być dochodowym interesem? Trafiony temat, dobrze napisany i wypromowany, może przynieść Ci bardzo szybki zastrzyk gotówki. Moi klienci przekonali się o tym nie raz. O zarobkach jakiego rzędu mówimy?
Z mojego doświadczenia wynika, że ebook może być dochodowym biznesem. Jedna z moich klientek w 11 dni zarobiła na swoim ebooku 49 tys. zł. Inna – w ciągu 14 miesięcy dzięki wydawnictwom dołożyła do swoich zysków 275 tys. zł.
Nie odpowiem Ci wprost, ile można zarobić na ebooku, bo zależy to od wielu czynników. Cena, wielość społeczności, promocja, aż w końcu popyt na Twoje treści dadzą w efekcie mniejszą lub większą gotówkę.
Chcę zwrócić uwagę na jedno – tworzenie treści w formie ebooka to budowanie potencjalnie dochodowego biznesu bez dużego kapitału. Przeliczyłam sobie to na podstawie zysków mojej klientki i porównałam z wynajmem kawalerek.
275 tys. złotych daje nam około 19 tys. zysków miesięcznie. Moja klientka stworzyła produkty i sprzedała je w ciągu 14 miesięcy. Zainwestowała niewielką kwotę w wydanie pierwszego ebooka, kolejne koszty pokrywała już z zysków. Gdyby chciała dochodów tego samego rzędu z wynajmu kawalerek w Trójmieście, musiałaby zainwestować… 3 mln złotych!
Oczywiście, nieruchomości są innym biznesem, jednak tego rzędu inwestycja bez kapitału w ciągu 14 miesięcy byłaby niemożliwa.
Dlaczego o tym piszę? Ponieważ chcę zwrócić uwagę na to, że tworzenie treści w formie produktów cyfrowych to sposób na pewien rodzaj pasywnego źródła dochodu. Działając w ten sposób inwestujesz głównie swój czas. Jednocześnie jednak może być to dla Ciebie relaks, ponieważ wiele osób pisanie po prostu odpręża i daje możliwość twórczego wyładowania.
Zauważ, że mądrze poprowadzone napisanie i wydanie ebooka może być przepustką do dobrych zarobków. To po prostu sposób na sprzedanie swojej wiedzy lub/i talentu.
Jak to zrobić? Zobacz, jakie jest podstawowe 7 kroków do zyskownego ebooka: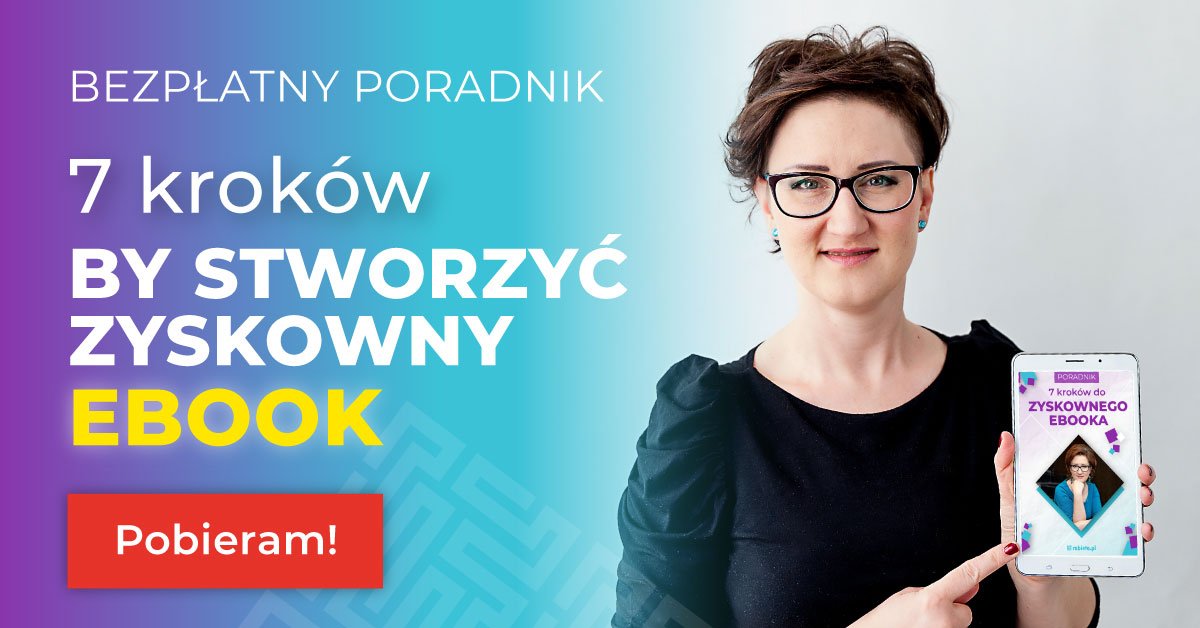 Jeśli wolisz słuchać niż czytać zapraszam na mój kanał You Tube: