Przewrotnie zadaję dziś pytanie, które przeważnie kierujemy do dzieci, przedsiębiorcom. Robię to, ponieważ prowadzenie firmy zgodnie z długofalowym planem jest po prostu bardziej efektywne. Dlatego też w tym wpisie przedstawiam podstawowe etapy, przez które możesz przejść wraz ze swoją firmą na drodze do sukcesu.
Zastanawiasz się, co mam na myśli pytając, kim chcesz zostać, gdy dorośniesz? Zapewne wybrałeś już swoją branżę i jeśli czytasz mój blog, to z dużą dozą prawdopodobieństwa masz już założoną firmę.
Z zakładaniem swojej działalności jest tak, że w kolejnych miesiącach uczymy się robić różne rzeczy, nie tylko wykonywać pracę, za którą ostatecznie płacą nam klienci. Akurat to przeważnie już bardzo dobrze umiemy, bo rzadko kto zakłada biznes bez żadnego planu i umiejętności.
Są jednak różne kwestie, które zaczynamy poznawać dopiero, gdy firma realnie zacznie działać. Mogą być to najróżniejsze sprawy: od księgowości, przez marketing, obsługę klienta, aż po zwykłą codzienną logistykę.
W tym całym natłoku zajęć zwykle to, czego brakuje to… czas. A trzeba go znaleźć, aby móc zaplanować strategiczny rozwój firmy, po to aby narysować sobie ścieżkę, która powie nam, gdzie konkretnie chcemy być za 5, 10, czy 15 lat.
Zanim jednak zaczniesz, powinieneś przede wszystkim ustalić, na jakim etapie jesteś. Każda firma funkcjonuje bowiem, w jakimś cyklu swojego życia, który jest stały i powtarzalny dla biznesu w ogóle. Oczywiście – możesz zatrzymać się nawet na dłuższy czas w jednym miejscu, możesz po wejściu na pewien etap nie kontynuować rozwoju, tylko dbać o to, co już masz, jednak musisz wiedzieć, gdzie jesteś.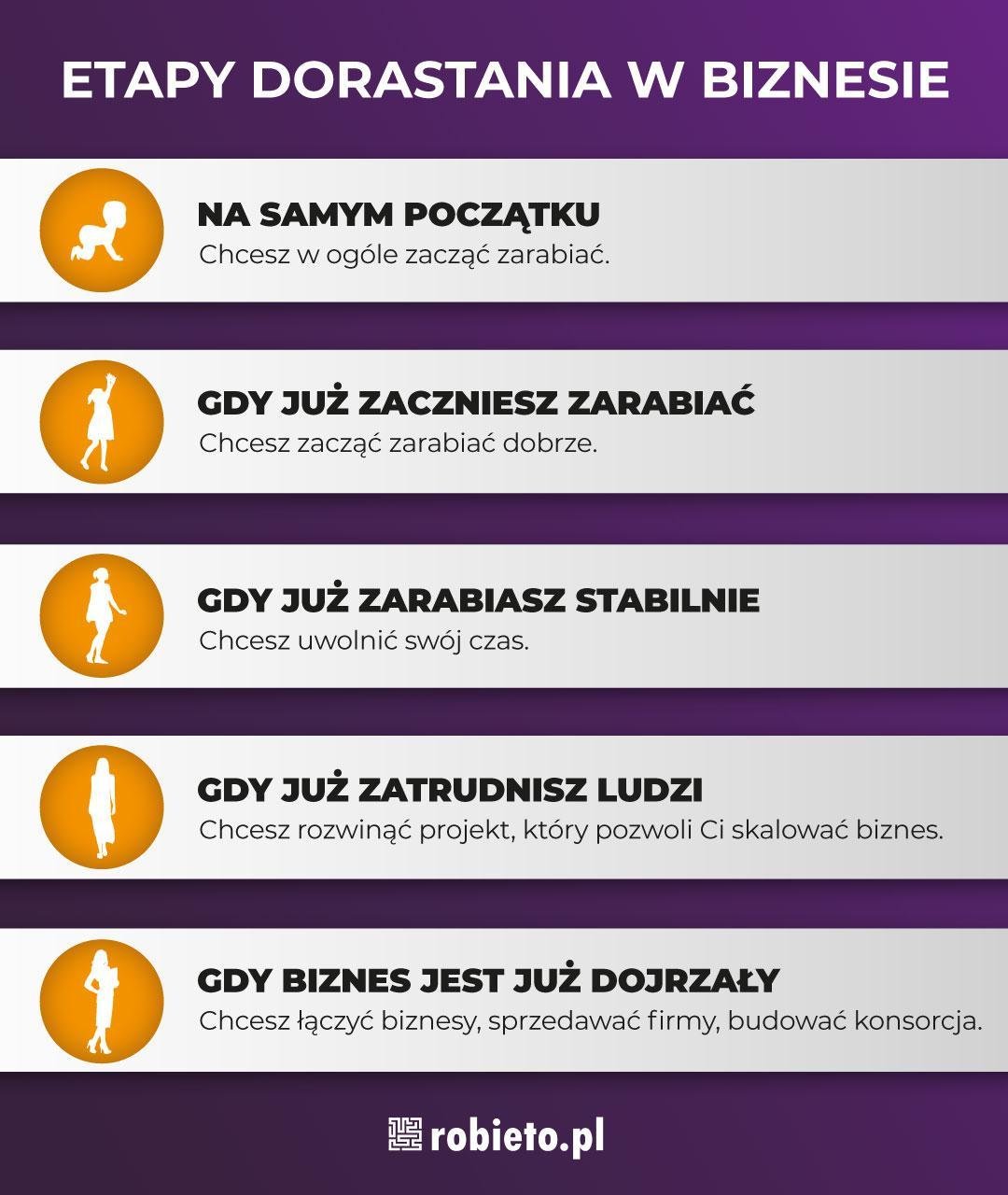 Każdy z momentów ma swoje prawa i cele, na których będziesz się skupiać. W momencie, gdy startujesz, najważniejsze jest utrzymanie się na powierzchni, zdobycie klientów, optymalizacja kosztów i poukładanie podstawowych spraw w firmie.
Gdy już zapewnisz sobie podstawy i zaczynasz się rozwijać, warto zadbać o rozwój nie tylko liczbę zleceń, ale i produktu, tak aby synchronicznie rosły nie tylko zarobki, ale i marża na Twoim produkcie.
Moment, kiedy zyskujesz już popularność i stały dochód zwykle zbiega się z przemęczeniem i brakiem czasu. Niestety, w pierwszych latach działalności często zapominamy o sobie i swoim odpoczynku, a także rozwoju. W tej chwili zwykle pojawia się myśl o zatrudnieniu pracownika lub oddelegowaniu części działań na zewnątrz.
Zwykle takie działanie powoduje chwilowy spadek zarobków, co w naturalny sposób może pokierować nas na dwie drogi – zwiększania zatrudniania i budowania coraz większej firmy lub skalowania biznesu. Druga forma polega na tym, aby rozwinąć gałąź działalności, która w pewien sposób będzie samonakręcającą się machiną. To wszystkie działania zapewniające przychody bez lub przy bardzo małym zaangażowaniu naszym i naszych pracowników.
To etap, na którym najczęściej przedsiębiorcy zatrzymują się, ponieważ wymaga na starcie cofnięcia się do "biznesowego dzieciństwa". Swoje oszczędności inwestujemy wtedy właśnie w to, żeby ruszyło coś co ma przynieść nam stały dochód. Skalowanie biznesu może odbywać się w różnych formach, choć tą, która moim zdaniem jest bardzo ciekawa i warta uwagi są kursy online.
A jak Waszym zdaniem warto skalować biznes? Czy macie już swoje plany na kolejne lata? Dajcie mi znać w komentarzach, ponieważ jestem ich niezwykle ciekawa.
Jeśli wolisz słuchać niż czytać zapraszam na mój kanał You Tube: