Często rozmawiam z nowymi osobami o ich planach na kurs online.
I zastaję najczęściej takie sytuacje:
1.  Kurs nagrany + brak społeczności
2.  Duża społeczność, ale brak chęci zakupowych +  brak pomysłu na kurs
3.  Pomysł na kurs + brak społeczności
4.  Lej po bomie – wszystko coś, gdzieś ruszone, ale nic niedokończone – mała lista maili, kilka wpisów na Facebooku, wiele kanałów Social Media
Zastanów się, w jakiej Ty jesteś sytuacji?
Na początku rozmowy chcę dowiedzieć się w jakim jesteś miejscu. To jak z odchudzaniem – najpierw zastanawiasz się, jaka jest Twoja waga docelowa, a potem planujesz jak to zrobić – osiągnąć wagę, którą chcesz.
A przynajmniej tak jest łatwiej 🙂
Aby sprzedawać swoje kursy potrzebujesz:
– kursu,
– społeczności,
– narzędzi (np. vod, reklama, www, program do mailingu).
Na świecie powstają kursy praktycznie na każdy temat. Ta forma dzielenia się wiedzą przyjęła się z różnych powodów – łatwość nauki, szybki dostęp, brak czasu.
Jeśli wg Ciebie w Polsce nie ma kursu na dany temat, poszukaj np. w anglojęzycznym świecie.
Nie można z góry określić czy dany kurs znajdzie nabywcę. Na pewno ryzykowne jest wydanie 40 000 zł na nagranie kursu (tak – takie koszty poniósł jeden z moich klientów – zlecił to jakiejś firmie zewnętrznej – też zbierałam szczękę z podłogi…), nie mając społeczności ani zaplecza technicznego.
Ale nie znam zbyt wielu biznesów, które przy tak małym wkładzie własnym pozwalają przetestować pomysł na dochodowy biznes.
Jeśli kurs jest merytoryczny to nie potrzebujecie studia nagraniowego… najłatwiej jest nagrywać kurs w oparciu o prezentację, która jest dla Ciebie drogowskazem, o czym właśnie masz mówić. Oczywiście nagranie powinno być jakościowe dobre – zwłaszcza, jeśli chodzi o dźwięk.
Naprawdę możesz zarobić ze swojego pierwszego kursu – tylko musisz się do tego przygotować – mieć na to plan i wdrożenie. No i… nie musisz mieć od razu gotowego kursu 😉 ale o tym następnym razem.
Tak naprawdę im bardziej zaspakajasz potrzebę Klienta w swoim kursie tym lepiej się on sprzeda.
Obserwuję jak rynek się zmienia i pojawiają się nowi gracze na rynku właściwie w każdej branży. Czy z tego powodu masz zrezygnować? No nie! Może jabłka zostały już zerwane z niskich gałęzi, ale coraz bardziej doceniane są kursy, które dają praktyczną wiedzę, popartą doświadczeniem
z wczoraj a nie z przed kilku lat. Online się zmienia i to nie, co roku tylko, … co kwartał widać już jakąś różnicę w zachowaniu odbiorców.
Jak zaczynasz – wystartuj od kursu, który mówi o podstawach w Twojej branży. Pamiętaj, że kursy specjalistyczne wymagają dotarcia do tych, co już mają podstawy w Twojej branży. Na każdym z nam ciąży tzw. "klątwa wiedzy" – czyli wydaje nam się, że to, co wiemy jest takie proste i oczywiste. Doświadczyłam tego na własnej skórze, gdy występowałam na Słodkiej Konferencji i mówiłam o marketingu w Słodkiej Branży.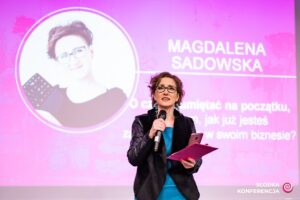 Byłam przekonana, że to, co mam do powiedzenia to absolutne podstawy a nawet myślałam, żeby zawęzić temat i omówić wąski fragment. Na całe szczęście nie poszłam w to i omówiłam podstawy. Na moje pytanie (które wydawało mi się z mojej perspektywy banalne), kto wie, co to jest Pixel Facebooka – z około 140 osób na sali podniosły ręce …. 3 osoby.
Wtedy już wiedziałam, że jestem w domu i zrozumiałam jeszcze bardziej jak bardzo wydaje nam się, że wszyscy już wiedzą. Nie prawda! Cały czas na rynek wchodzą nowe osoby, które chcą zacząć robić to, w czym my już jesteśmy ekspertami i potrzebują podstaw, a później rozwinięcia.
Działaj!