Brzmi jak paradoks? Przecież lead magnet to bezpłatny materiał na pytanie. Skąd więc pomysł na to, że można na nim zarabiać? Choć sam lead magnet nie uczyni Cię bogatym, to jednak jego stosowanie może być bardzo dobrym powodem do zmonetyzowania swojej wiedzy.
Wszystko zależy od tego, w jaki sposób "podamy" naszej społeczności lead magnet. Można oczywiście dać materiał do pobrania, licząc na to, że osoba, która go pobrała, zainteresuje się tym, co robimy i skontaktuje się z nami. Można natomiast pozostawić możliwość zachęcenia jej do skorzystania z usług lub produktów po swojej stronie.
Lead magnet, jako wejście w lejek sprzedażowy
Podejście, w którym bezpłatny materiał do pobrania jest początkiem ścieżki sprzedażowej, która na końcu zamieni się w Twoich Klientów, to właśnie postawa, którą proponuję. Co to oznacza? Przede wszystkim to, że choć lead magnet jest bezpłatny to nie oddajemy go całkowicie za darmo. Zapłatą niech będą dane kontaktowe do klienta, choćby w postaci adresu e-mail. W taki sposób tworzymy bazę mailową, dzięki której możemy dać się poznać społeczności, a w końcu – zaoferować także płatne produkty.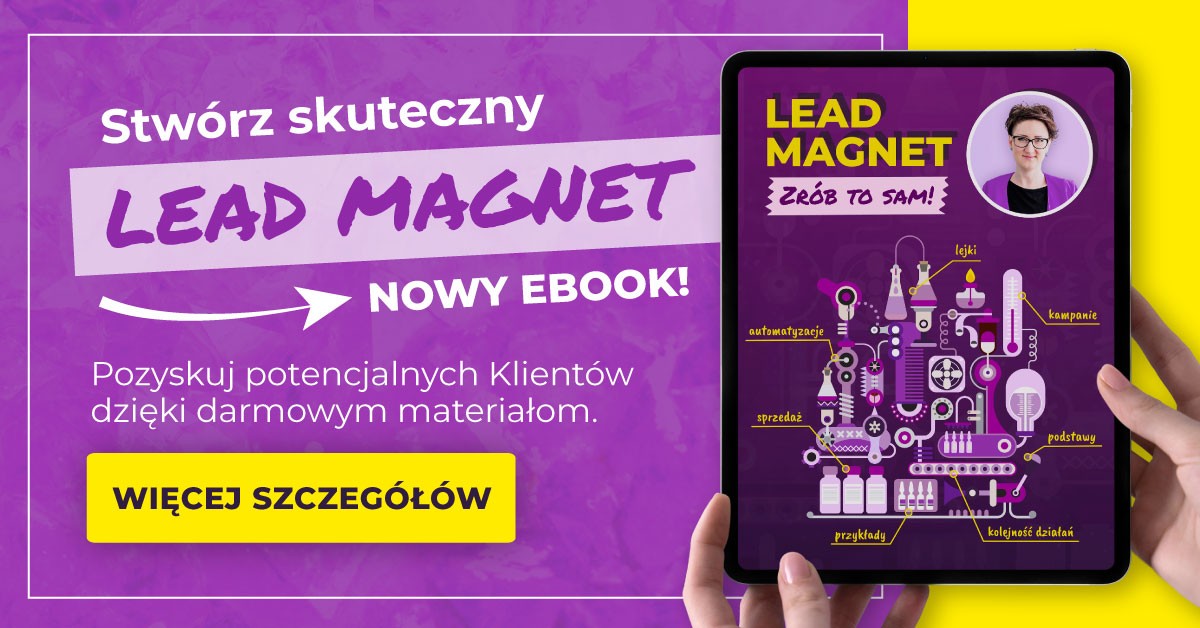 Oferta jednorazowa po pobraniu lead magnetu
Drugim sposobem na spieniężenie lead magnetu jest zastosowanie strony podziękowania za pobranie lead magnetu z ograniczoną czasowo specjalną ofertą, czyli tzw. One Time Offer (w skrócie OTO).
Na czym to polega? W momencie, gdy Twój użytkownik pobiera lead magnet, przekierowujesz go na stronę, gdzie:
dziękujesz za pobranie bezpłatnego materiału (możesz np. określić korzyść, którą właśnie otrzymał, czyli np. zdobycie nowej wiedzy na temat marketingu, która w przyszłości przełoży się na zdobywanie nowych Klientów dla jego biznesu),

proponujesz zakup swojego produktu w promocyjnej cenie (często są to bardzo duże obniżki, sięgające nawet kilkudziesięcioprocentowych rabatów),

ograniczasz czas na podjęcie decyzji, np. do 15 minut (możesz to zrobić dzięki dedykowanym licznikom na strony internetowe, sama korzystam z narzędzia pagehook.io).
Część z osób zdecyduje się na taki zakup, dzięki czemu od razu zarobisz lub przynajmniej zniwelujesz koszty reklamy.
Zaproszenie na webinar
Korzystając ze zbudowanej bazy mailowej, możesz wysłać zaproszenie na bezpłatny webinar i właśnie tam sprzedawać. Pamiętaj, że nie można takiej bazy budować bardzo długo, zanim się z niej skorzysta. Po roku nikt już nie będzie pamiętał, że pobrał materiał od Ciebie i to właśnie ty zapraszasz go na spotkanie, podczas którego będzie omawiany jakiś temat. Nie oznacza to, że taki mail nie ma prawa bytu, bo dobrze napisany, z ciekawym tytułem, może zebrać jakąś publiczność, jednak jego siła rażenia będzie na pewno mniejsza niż w przypadku, kiedy zrobisz to szybciej.
Wolisz oglądać niż czytać? Zobacz materiał wideo: