Jak zaczynasz działać w Social Mediach i na Facebooku pojawia się wiele pytań.
Od czego zacząć? Czy możesz działać w oparciu o swoje konto osobiste? 
Bo w sumie, po co Ci kolejne miejsce w sieci, skoro potencjalni klienci piszą do ciebie na prywatną wiadomość. Poza tym to trzeba jakoś prowadzić a to zabiera czas, prawda? 
Być może bijesz się z takimi myślami i zastanawiasz się czy prowadzenie fanpage'a czyli strony firmowej na Facebooku jest dla ciebie. Czy warte jest zaangażowania? 
Mam nadzieję że poniższe zestawienie pozwoli Ci podjąć dla siebie słuszną decyzję. Z naszego doświadczenia wynika, że jeżeli chcesz traktować swój biznes poważnie, niezależnie czy jest to biznes online, czy biznes offline, to fanpage jest ci niezbędny.
Dlaczego o tym poniżej w konkretnych punktach. Sprawdź czym się od siebie różnią: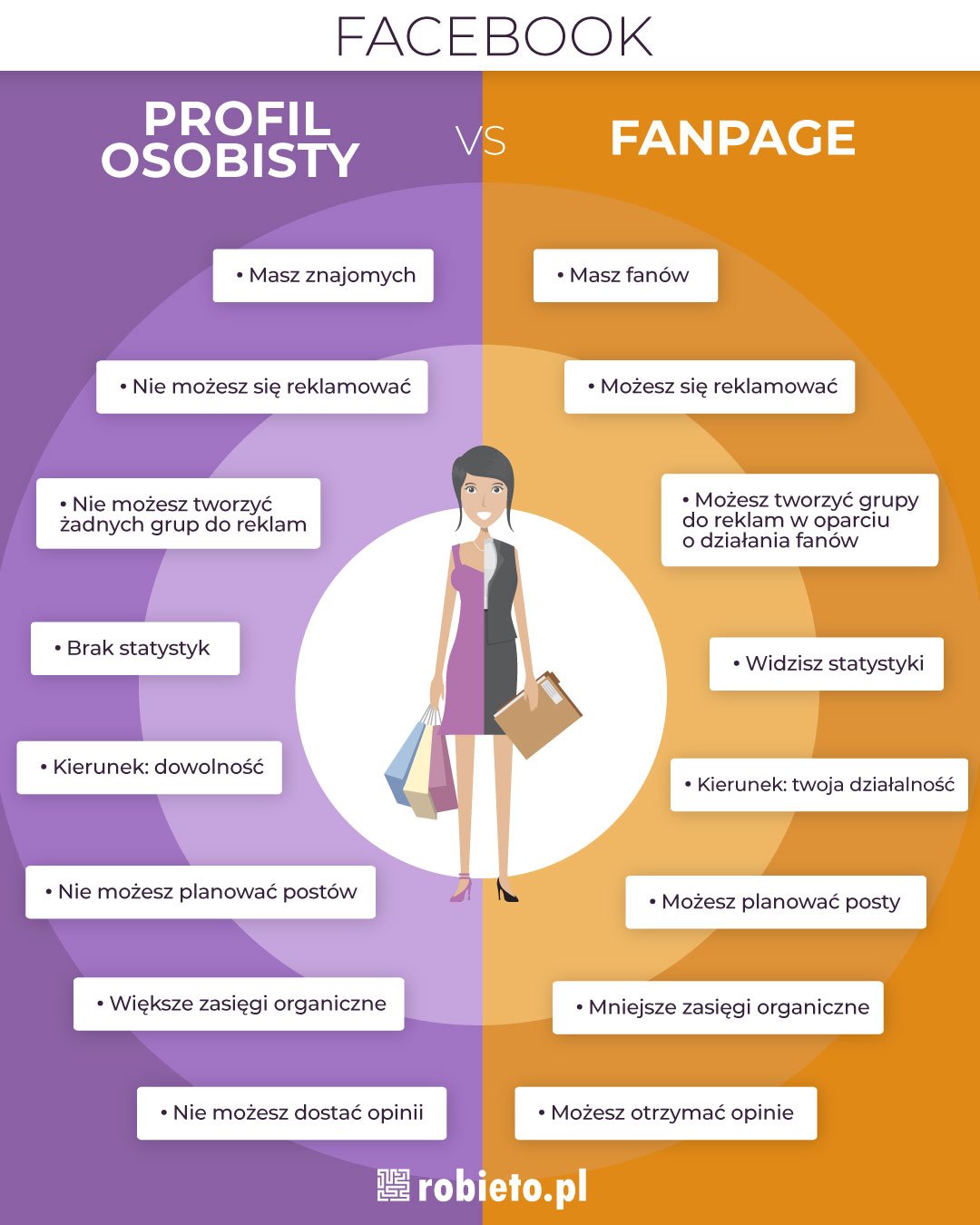 Czym charakteryzuje się fanpage?
Masz fanów – bez ograniczeń.

Możesz robić reklamy.

Możesz tworzyć grupy do reklam w oparciu o aktywność osób na twoim fanpage'u.

Możesz obserwować statystyki, czyli wiesz, kto cię jest twoim fanem – w jakim jest wieku, gdzie mieszka, jakiej płci i które posty cieszą się największą popularnością.

Piszesz o sprawach związanych z twoją działalnością.

Możesz planować posty w Creatorze Studio, czyli możesz planować z góry publikację postów.

Masz mniejsze zasięgi organiczne.

Możesz otrzymać opinie od klientów.
Profil osobisty:
Masz znajomych, ich limit to 5000.

Nie możesz się reklamować, ponieważ system reklamowy Facebooka umożliwia robienie reklam tylko z fanpage'a.

Nie możesz tworzyć grup do reklam (czytaj szczegółowe targetowanie).

Nie możesz analizować statystyk, ponieważ profil osobisty nie zbiera takich danych.

Możesz pisać o czym tylko chcesz poczynając od wyjazdu na wakacje po sprawy zawodowe.

Nie możesz zaplanować postów.

Masz większe zasięgi organiczne niż to możliwe na fanpage'u.

Nie ma opinii – profil osobisty nie przewiduje takiej możliwości.