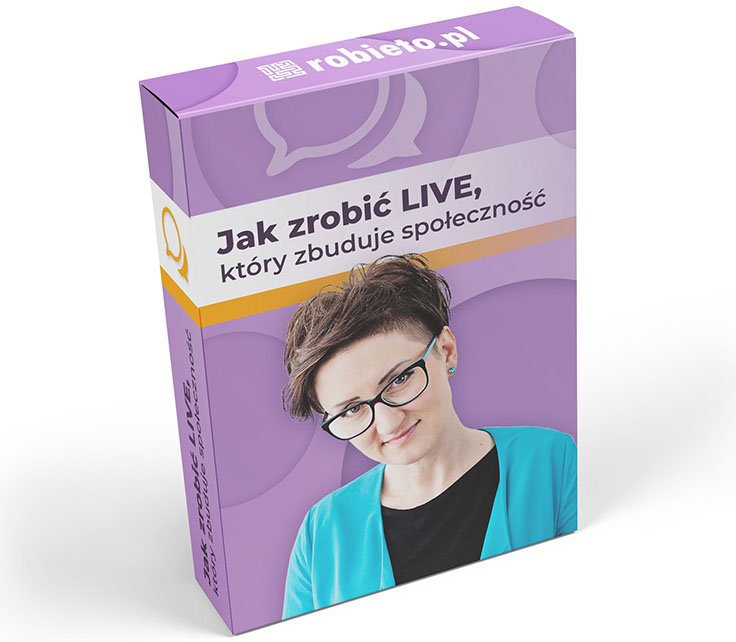 Szkolenie online, dzięki któremu zbudujesz bezpłatne zasięgi
Jak zrobić LIVE, który zbuduje społeczność?
Sprawdź skuteczne sposoby prowadzenia LIVE, które spowodują, że Twoja społeczność pozna Cię, polubi i zostanie klientem Twojej firmy. Poznaj rozwiązanie, dzięki któremu polskie marki zarobiły już 2 mln zł. Przekonaj się, jak działa szkolenie sprawdzone i dopracowane na polskim rynku.
Zastanawiasz się na swoim pierwszym LIVE i ogarnia Cię strach, że nie wiesz jak się za to wziąć? 
Sporo osób, które rozwijają swoje biznesy online, stawia na dzielenie się wiedzą za pomocą LIVE'ów na Facebook'u. Zastanawiasz się, czy to działa? Tak, działa, ale o tym później. Też chciałbyś to robić, bo lubisz kontakt z Klientem, jednak cenisz swój czas/inwestujesz w firmę rozważnie/realizujesz konsekwentnie swój plan/biznes to twoje drogie hobby? (niepotrzebne skreślić)
Czytasz dalej, chociaż nic nie skreśliłeś, ale jesteś ciekawy co miałam na myśli pisząc biznes to twoje drogie hobby? 
Mam nadzieję, że nikogo nie uraziłam, bo to ostre określenie. Moim zdaniem jednak, czasami trzeba nazwać rzeczy po imieniu. Firma jest po to, aby zarabiała pieniądze. Dlatego też bardzo ważna w firmie jest…
SPRZEDAŻ! CIĄGŁA SPRZEDAŻ!
Wiesz? Zdajesz sobie z tego sprawę? Chcesz uporządkować tę sferę raz na zawsze, bez względu na wszystko, bo wiesz że nic nie daje takiego spokoju w działaniu jak stały dopływ Klientów?
Tak, przedsiębiorcy którzy pracują po 4 godziny dziennie to nie jest święty Graal,
Tak, są ludzie, którzy bez kredytów rozwinęli fajne firmy i nie zajęło im to wieków,
Tak, jest możliwe wyskalowanie biznesu online i dochód pasywny bez miliona drogich narzędzi.
Jak to?
Po prostu tak jest. Możesz mi uwierzyć na słowo, albo zobaczyć opinie moich klientów: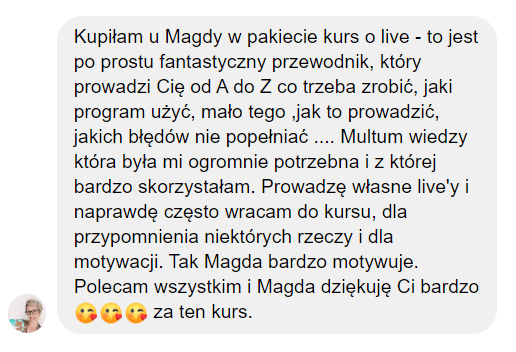 Skąd ja to wiem?
Z doświadczenia. 20-letniego w pracy, w tym 6-letniego online.
Czy to działa?
Tak mówią.
Czy jestem ekspertem?
Tak.
inwestujesz w firmę rozważnie?
realizujesz konsekwentnie swój plan?
Jeśli odpowiedziałeś/(aś), tylko TAK, to prawdopodobnie ten kurs jest dla Ciebie.
Na szkoleniu online dowiesz się:
Jakie elementy LIVE są niezbędne?
Jak zadbać o przestrzeń, dźwięk i oświetlenie?
Jak angażować społeczność?
Jak sprzedawać na LIVE'ach?
Przełamiesz pierwszy opór przed wystąpieniem
Zastosujesz konkretne wytyczne i narzędzia
Przygotujesz swoje wystąpienie na wskazówkach marketingowych
Czyli – bez stresu zrobisz swój pierwszy live i nie wydasz na niego fortuny (na studio nagrań przyjdzie czas, jeśli będziesz chcieć rozwoju w tym kierunku).
➤ 12 praktycznych lekcji video o tym, co trzeba zrobić, aby Twój LIVE był skuteczny
➤ Omówienie wygodnego narzędzia do robienia LIVE'ów (w wersji bezpłatnej i płatnej)
➤ Roczny dostęp do wciąż aktualizowanego kursu, w którym pokazuję możeliwości LIVE'ów
➤ Dostęp do zamkniętej grupy na Facebooku, gdzie co miesiąc odbywają się bezpłatne sesje pytań i odpowiedzi
Za cały ten pakiet TYLKO
149 zł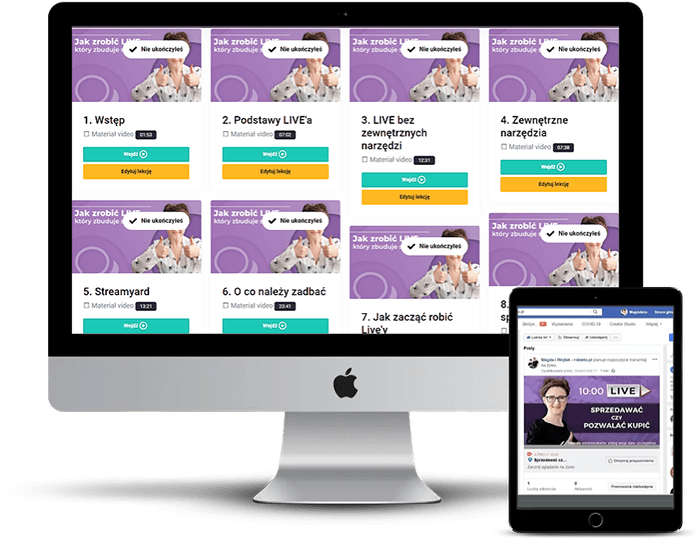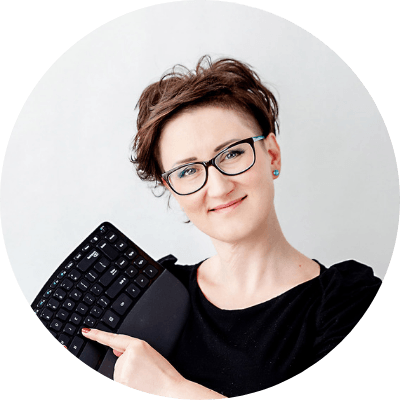 Magdalena Sadowska
Jestem przedsiębiorcą od zawsze, a z marketingiem związałam się blisko 10 lat temu. Zdobyta wiedza i doświadczenie spowodowały, że jestem zapraszana na konferencje, gdzie opowiadam o tym, jak sprzedawać online i budować swoją markę. Prowadzę także swoje szkolenia, piszę ebooki, organizuję warsztaty i bloguję na temat tego, jak rozwijać swoją firmę w sieci. Organizuję konferencje online, m.in. z udziałem Kasi Miller i Ewy Foley. Współpracowałam m.in. z Jakubem B. Bączkiem, stoję za marketingiem jednej z najprężniej działających kobiet w słodkim biznesie, Uli Stępniak.
Siłą mojego marketingu jest sprzedaż, którą znam nie tylko z teorii.
W swojej karierze zarządzałam wieloosobowymi zespołami, jednocześnie podnosząc ich kompetencje sprzedażowe. Sprzedawałam jeden na jeden oraz w systemie jeden do wielu. 
Obecnie całe swoje doświadczenie realizuję w działaniach online. Bo nadal najlepszy marketing to po prostu taki, który sprzedaje.
Prowadzę z mężem agencję Robieto.pl. Nadal lubię generować konkretny zysk dla Klientów, tworzyć lejki sprzedażowe i dowozić rezultat, tworzę również własne produkty cyfrowe.
Mówią o mnie, że jestem bardzo kreatywna i konkretna. Tworzenie nowych rozwiązań i strategii przychodzi mi z łatwością.
"RobieTo" co lubię, a przy okazji pozwalam spełniać przedsiębiorcom marzenia o dochodowym biznesie online i pięciocyfrowych zarobkach.