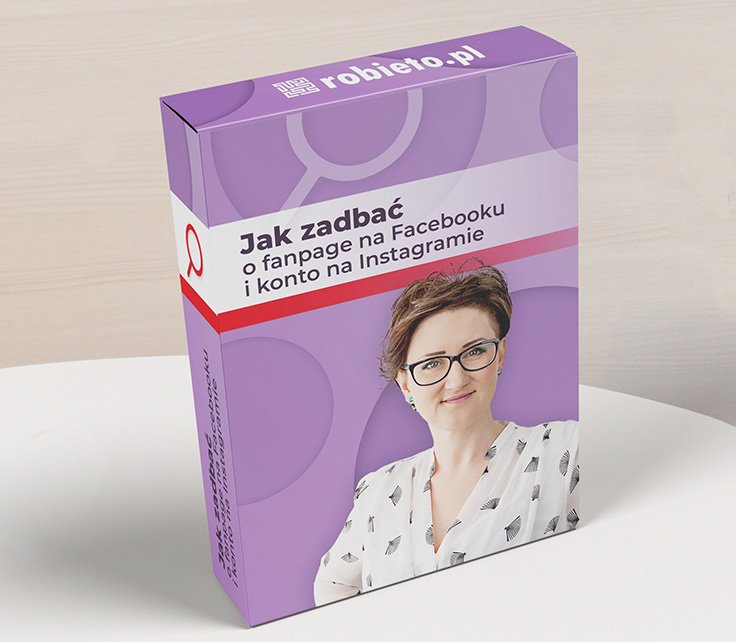 Intensywne szkolenie z funkcjonalności social media
Jak zadbać o fanpage na Facebooku i konto na Instagramie?
Masz firmę i chcesz ją promować w internecie, ale nie wiesz od czego zacząć?
Na początek zadbaj o jej media społecznościowe. Dobrze skonfigurowany Facebook z ciekawymi treściami i estetyczny Instagram też mogą zarabiać (i to nieźle). Skąd to wiem? Pomogłam zarobić dla swoich klientów już ponad 2 mln złotych (i ta liczba wciąż rośnie).
Jak to zrobić? Możesz szperać godzinami w internecie i testować rozwiązania, ale… prawdopodobnie nie masz na to czasu. Dlatego też, możesz skorzystać mojego kursu i uczyć się w domu wtedy, kiedy masz możliwości (i ochotę).
Jesteś krok dalej? Założyłeś konta na Facebooku i Instagramie, zacząłeś pisać posty i… nic się nie dzieje?
To nic dziwnego, social media rządzą się swoimi prawami! Po prostu czas na naukę 🙂
Budowanie skutecznego fanpage'a na Facebooku często zajmuje lata. Dlaczego? Tyle trwa przeciętnie wszystkich funkcji ogromnych narzędzi sprzedażowych, jakimi są Facebook i Instagram.
Dziś możesz skrócić ten czas do kilku tygodni, dzięki temu szkoleniu.
Czy poznasz cudowną tajemnicę sprzedaży? Nie, ten kurs nie jest magiczną różdżką, tylko solidnym szkoleniem z zakamarków funkcji, jakie daje Facebook i Instagram.
Co w takim razie się stanie? Poznasz działające metody, które pomagają generować zysk w internecie. Nauczysz się ich, dzięki nagraniom wideo, które krok po kroku pokażą, gdzie kliknąć, aby włączyć w końcu swojej firmie "moduł zarabiania".
Dla osób, które stawiają pierwsze kroki w marketingu online.
Dla przedsiębiorców, którzy mają dość zatrudniania kolejnych agencji, które nie znają specyfiki ich branży.
Dla ekspertów w swojej dziedzinie, którzy chcą zacząć sprzedawać online swoją wiedzę w formie kursów, konsultacji i płatnych webinarów.
Dla każdego, kto chce prowadzić samodzielnie social media swojej firmy i robić to dobrze.
Jak krok po kroku założyć fanpage na Facebooku i konto na Instagramie i nie zepsuć tego na wstępie?
Statystyki na Facebooku — jak wykorzystać dane do podejmowania świadomych decyzji o swoim biznesie?
Recepta na to, jak zbudować wierne grono fanów i kilka rad, czego nie robić.
Jak zbudowac społeczność, która będzie chciała od ciebie kupować.
Które funkcje Facebooka sprzedają?
Jak wykorzystać Instagram do promocji firmy, prowadząc jednocześnie Facebooka?
Jakie metody zwiększania zasięgów będą pierwszym etapem budowy lejka sprzedażowego?
Co zrobić, aby twoja firma w końcu zaczęła zarabiać dzięki social media?
Czy ten kurs to złota recepta?
Nie, to kawał wiedzy, który zbierałam latami.
To wnioski i "patenty", które zrodziły się podczas prowadzenia działań marketingowych na zapleczu dużych marek. Co ważne przekładają się na efekty i sprzedaż.


Dołącz do kursu
"Jak zadbać o fanpage na Facebooku i konto na Instagramie"
i zacznij osiągać efekty ze swoich działań!
➤ 24 praktyczne i uniwersalne lekcje video o tym, co trzeba zrobić, aby social media sprzedawały
➤ Ponad 3,5 godziny mojego instruktażu w formie video
➤ Omówienie kilkuset pojedynczych opcji Facebooka ze wskazaniem tych, które warto stosować
➤ Roczny dostęp do wciąż aktualizowanego kursu, w którym pokazuję cyklicznie nowe funkcje Facebooka
➤ Dostęp do zamkniętej grupy na Facebooku, gdzie co miesiąc odbywają się bezpłatne sesje pytań i odpowiedzi
Za cały ten pakiet TYLKO
99 zł
59 zł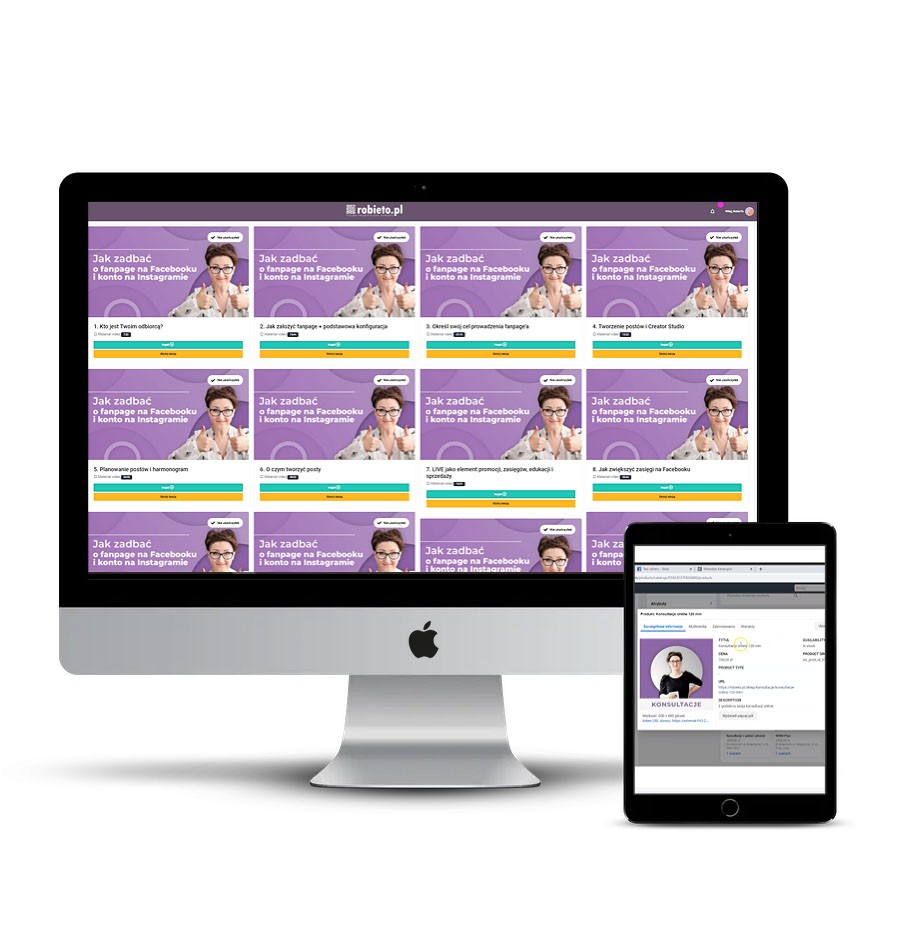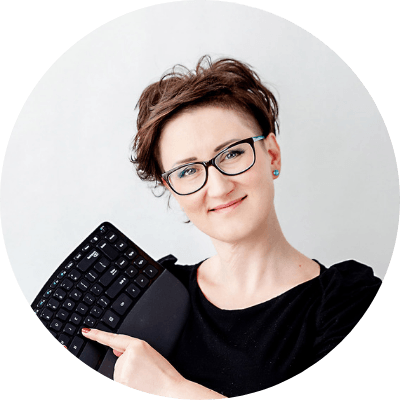 Magdalena Sadowska
Nazywam się Magda Sadowska i potrafię budować proste i dochodowe firmy, sprawnie działające w internecie. Pomogłam wygenerować już blisko 5 mln złotych moim Klientom i Kursantom na ebookach i innych produktach cyfrowych.
Obecnie prowadzę kilkanaście marek w startowaniu i prowadzeniu biznesu online. Wspieram w sprzedaży, tworzę strony i buduję marki w branży nieruchomości, budowlanej i deweloperskiej, słodkie biznesy (torty, pierniki, dekoracje), w branży trenerskiej, pracy z trudnymi przeżyciami, branży ochrony zdrowia (dietetycznej, stomatologicznej), pracuję z artystami i nauczycielami i sportowcami.
Najczęściej zadawane pytania:
Kiedy dostanę dostęp do kursu?
Od razu po zakupie otrzymasz w mailu dostęp do platformy VOD, gdzie możesz obejrzec kurs tyle razy ile będziesz chciała/chciał.
Jak długo mam dostęp do szkolenia?
Przez rok, z możliwością przedłużenia – wystarczy, że do nas napiszesz.
Czy mogę dostać fakturę?
Tak – wystarczy że podczas zamówienia zaznaczysz pole "Chcę fakturę" i podasz dane. 
Chcesz dowiedzieć się, gdzie kliknąć, żeby Facebook i Instagram wyglądały profesjonalnie i poza "lajkami" przynosiły pieniądze?