Lista TO DO, przygotowanie webinaru
według MAGDY SADOWSKIEJ
Jak zaplanować, co jest do zrobienia przy webinarze?
Jeśli chcesz poznać sprawdzony sposób na przygotowanie listy zadań do webinaru pobierz koniecznie ten PDF!
Nie wiesz jak się do tego zabrać? Zastanawiasz się co zrobić po kolei?
Boisz się, że coś przegapisz i umknie ci w ferworze zadań?
Przygotowanie webinaru wymaga pracy jednocześnie w kilku obszarach, wszystkie kluczowe tematy zawarłam w tym materiale.
Pobierz PDF i zobacz co musisz zrobić, żeby przygotować doskonały i strategiczny webinar.
Pobierz PDF z listą TO-DO a odzyskasz czas i kontrolę.
Spokojnie ułożysz priorytety i doskonale przygotujesz się do pracy i realizacji działań.
Nie przegap tej okazji! Otrzymuję wiele pytań jak dobrze przygotować webinar, dlatego przygotowałam dokument wynikający z mojej wiedzy i obserwacji pracy z klientami, po to aby pomóc spojrzeć na webinar strategicznie.
Wiem, masz jeszcze wiele innych pytań.
Pragnę dzielić się z Tobą moim obserwacjami i sposobami radzenia sobie z wyzwaniem jakie stanowi przygotowanie webinaru.
Przedstawiam Ci listę TO-DO, przygotowanie webinaru, do użycia od zaraz. Wierzę, że poniższa wiedza będzie dla Ciebie przydatna od razu po przeczytaniu tego materiału.
Nazywam się Magda Sadowska jestem twórcą projektu Magda Sadowska ROBIETO. Postanowiłam dzielić się wiedzą, ponieważ podczas pracy z moimi klientami obserwuję jak często zmagają się z wyzwaniami związanymi z przygotowaniem webinaru i jego strategicznym wdrożeniem do organizacji oraz dlatego, że ten temat nie ma dla mnie tajemnic i ROBIĘ TO DOBRZE.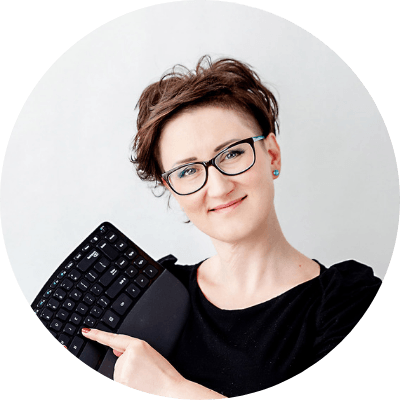 Magda Sadowska
Przedsiębiorca od zawsze. Wieloletnie doświadczenie zdobyła w sprzedaży oraz w marketingu. Obecnie współtworzy z mężem firmę Robieto.pl, która pomaga markom zaistnieć w internecie i zacząć zarabiać online. Od zawsze ukierunkowana na działanie i sprzedaż. Uwielbia sprzedawać, tworzyć lejki sprzedażowe i dowozić rezultat.
Przez lata działała w reklamie, zajmowała się sprzedażą usług finansowych, prowadziła przez wiele lat oddział dla jednej z korporacji ubepieczeniowych. Sprzedawała sama, oraz w zespole, uczyła tego innych. A dziś od wielu lat przekłada swoje doświadczenie na działania online. Bardzo kreatywna, lubi współpracować z osobami, które tworzą środowisko wspierające nowe rozwiązania. Stąd już wieloletnia współpraca z Dwoma Martami. Pasjonatka nowych rozwiązań. Nieustająco poszukuje kolejnych pomysłów do wdrożenia.