Zminimalizuj szanse na porażkę!
Konferencja online dobrze zorganizowana!
Pobierz listę kontrolną i sprawdź, czy masz wszystkie elementy, które wpływają na dobrą organizację wydarzenia.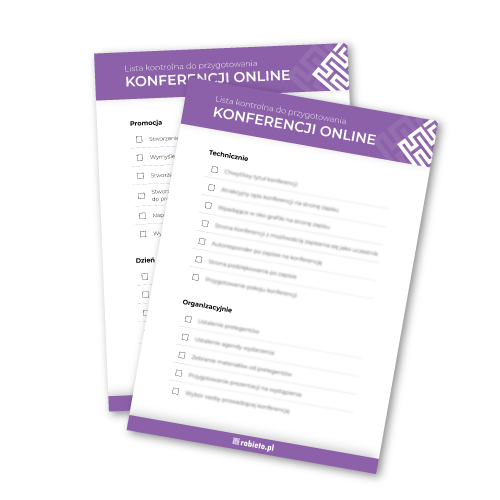 Obawiasz się, że zapomniałeś o czymś ważnym?
Boisz się, że zaliczysz wpadkę podczas pierwszej konferencji online?
Przydałaby Ci się wiedza kogoś, kto już takie wydarzenia organizował?
To, że masz obawy przed organizacją pierwszego wydarzenia wcale mnie nie dziwi. Sama nie mogłam spać przed pierwszą konferencją online, którą zorganizowałam, choć za sobą miałam już 350 webinarów w roli wszechogarniacza i zaplecza technicznego.
Dlatego też chętnie, bezpłatnie podzielę się z Tobą swoim doświadczeniem. Zorganizowałam w ciągu ostatniego roku konferencje online, na które zapisało się ponad 10 tys. osób i doskonale wiem, o czym możesz… zapomnieć.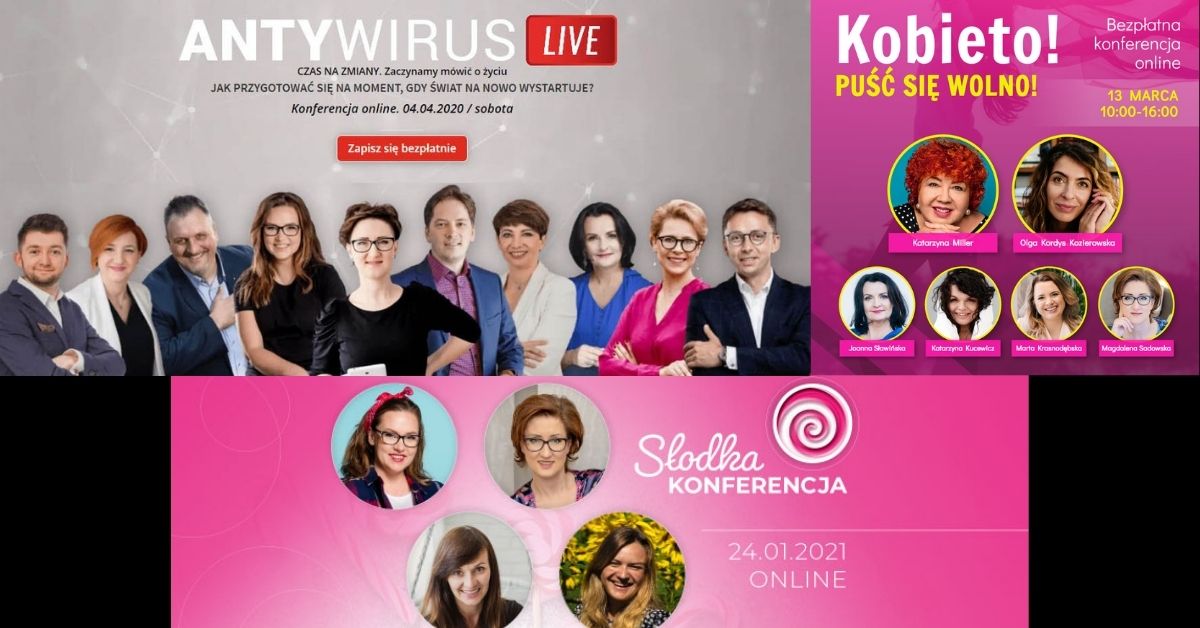 Przygotowanie konferencji online to niezłe wyzwanie, podobnie jak zorganizowanie eventu w tradycyjnym wydaniu. W pewnych momentach może wydać Ci się nawet bardziej skomplikowane, ponieważ w grę wchodzi wiele spraw technicznych, o które dbamy samodzielnie. Na liście kontrolnej znajdziesz różne działania z podziałem na cztery obszary:
Zadania w dniu konferencji!
Wypełnij formularz i odbierz bezpłatny prezent – listę kontrolną, na której znajdziesz
ponad 20 zagadnień, o których warto pamiętać,
by organizowane przez nas wydarzenie było profesjonalnie przygotowane!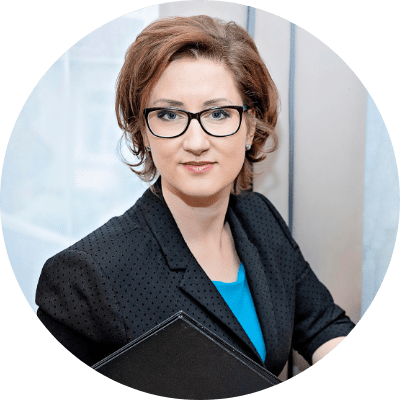 Magdalena Sadowska
Jestem przedsiębiorcą od zawsze. Swoją karierę zaczynałam od prowadzenia agencji reklamowej.
Następnie zdobywałam praktyczne doświadczenie w sprzedaży i marketingu firmy z branży finansowej. Przez wiele lat pracowałam dla tej niezwykle wymagającej branży, awansując od managera, przez dyrektora oddziału, aż do dyrektora regionalnego. Zarządzałam wieloosobowymi zespołami, jednocześnie podnosząc ich kompetencje sprzedażowe. Sprzedawałam jeden na jeden oraz w systemie jeden do wielu.
Obecnie całe swoje doświadczenie realizuję w działaniach online. Wierzę, że najlepszy marketing to po prostu taki, który sprzedaje.
Od 8 lat prowadzę z mężem Wojtkiem Sadowskim, agencję Robieto.pl, która pomaga firmom i osobom indywidualnym zaistnieć w internecie i zarabiać online. Uwielbiam generować konkretny zysk, tworzyć lejki sprzedażowe, dowozić rezultat i w ten sposób spełniać marzenia moich klientów.
Od zawsze byłam ukierunkowana na sprawne działanie i skuteczną sprzedaż. Mówią o mnie, że jestem bardzo kreatywna i konkretna. Tworzenie nowych rozwiązań i strategii dla Klientów przychodzi mi z łatwością. Współpracowałam m.in. z Kobiecą Stroną Inwestowania czy Ulą Stępniak, uczącą jak zrobić "słodki biznes". Realizowałam projekt 90dni.pl dla Jakuba B. Bączka i Beaty Kapcewicz, którzy w krótkim czasie prowadzą przedsiębiorców do biznesowego mistrzostwa.
"Robieto" co lubię.